Sweden has one of the world's most controlled alcohol regimes, with steep taxation, a state-controlled retail monopoly, and a 20-year-old minimum age to buy alcohol at a store (and they really card, too). The only store at which a consumer can buy wine, beer, or liquor in Sweden is Systembolaget, the state-controlled retail monopoly.
Is this a good thing or a bad thing? My intuition (and that of the economists I've been speaking with here in Stockholm) is the latter—first and foremost, as in Quebec, it's a major headache for wine producers, whose distribution chances hang on the (often arbitrary) whims of just one decisionmaker. Opening hours of stores are criminally short. Pricing is screwy, in part because per-unit (rather than per-krona) taxation results in cheap wine being overpriced and expensive wine underpriced. As ever, monopolies throw everybody's incentives out of whack.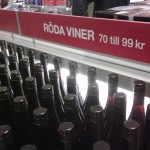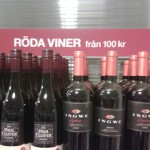 But here's one definite consumer-oriented boon that results: in an of-the-people move, Systembolaget wine stores—that is, all wine stores in Sweden—are organized first by color, second by price. There's the 69-kronor-(US$8.71)-and-under red wine section; there's the 70-kronor-(US$8.84)-to-99-kronor (US$12.50) red wine section; and then there's the 100-kronor (US$12.63)-and-up red wine section.
Although I've seen US wine stores with special $10-and-under sections and such, I've never seen an entire store organized this way. Intuitively, at least, it seems to be more aligned with consumers' game plans as organization by region, grape, and so forth.
Why don't non-monopoly stores organize this way?
My guess would be that profit-minded stores, for understandable reasons, don't want to lose the chance to upsell—they want people to walk away with a wine more expensive than the one they came looking for.