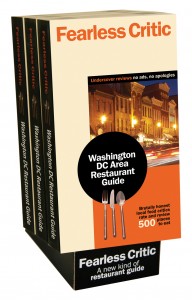 The Fearless Critic Washington DC Area Restaurant Guide (Fearless Critic Media, 608 pages, paperback, $15.95, distributed by Workman) is now on its way to stores. The book reviews 500 restaurants in the greater DC area, including the Maryland and Virginia suburbs out to the Beltway.
You can pre-order the book on amazon.com, which should receive stock within the week. The book will soon arrive at DC area stores, including Politics & Prose, Kramerbooks, B&N, Borders, and Books a Million.
In putting together the book, I worked with a team of critics and editors that included Alexis Herschkowitsch, Erin McReynolds, Rebecca Markovits, Justine Chiou, Coco Krumme, Sandra Di Capua, and Christina Dahlman.