On culinary televangelism and the Parkerization of cuisine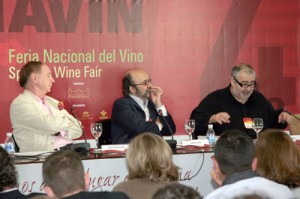 In the introduction to his book La Cocina al Desnudo (roughly "The Kitchen Laid Bare"), the chef Santi Santamaría writes: "one of the greatest challenges faced by today's chefs is to avoid becoming the court jesters of the snobs and the posh."
One of the highlights of FENAVIN, Spain's national wine fair, was a spirited hour-long debate on the status of Spanish cuisine between Mr. Santamaría (Santceloni, Racò de Can Fabes, EVO, Tierra; on the right end in the photo), one of Spain's great culinary traditionalists, and José Carlos Capel (on the left end), a well-regarded food critic for El País who, generally speaking, embraces the avant-garde.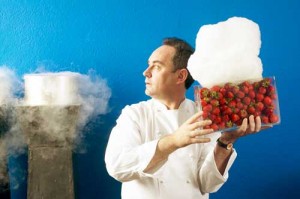 It was a debate to which Ferran Adrià, one of the pioneers of molecular gastronomy (the culinary movement to which Santamaría alternately refers as "cocina de la vanguardia," "tecnoemocional," and "cocina del laboratorio"), was surely invited—and didn't come.
Perhaps Mr. Adrià felt no need to defend himself. In late April 2009, his restaurant, elBulli, was named the best in the world for the fourth year in a row in the annual survey of the World's Top 50 restaurants, by the British Restaurant Magazine, while Santamaría is absent from the list entirely. Fellow molecular gastronomy houses The Fat Duck (UK), Noma (Denmark), Mugaritz (Spain), and El Celler de Can Roca (Spain) round out the rest of the top five. (The chefs of Noma and Mugaritz studied with Adrià.)
Santamaría, without being so immodest as to suggest that he, too, deserved at least some ranking in the top 50, hinted at the absurdity—and it really is an absurdity—that food critics and publications from the US and UK, regions mostly devoid of complex food traditions of their own, should be the judges of whether fideua, bollito misto, and blanquette de veau are now hopelessly passé, and whether a kitchen need be outfitted with a centrifuge, liquid nitrogen tanks, and stockpiles of sodium alginate and calcium chloride in order to be considered one of the world's best.
That question is at the crux of a crisis in modern cuisine—a culture war. Although these men that have learned to make human beings breathe like dragons have been anointed as philosopher-kings by America's culinary televangelists and food bloggers, what exactly is the composition of this jury? Does it represent any depth of food education? Any geographical breadth?
Restaurant's top 50 list, which is determined by more than 800 food critics from around the world and sponsored by S. Pellegrino, is clearly influential—influential enough, at least, to come up in the discussion between Messrs. Santamaría and Capel.
But what are we to make of the fact that, the entire continent of Asia, home to the world's greatest culinary bounty, has only two restaurants in the top 50—Les Creations de Narisawa in Tokyo (#20) and Iggy's in Singapore (#45)—and they're both French? Even more preposterously, the list tells us that the three best actual Asian restaurants in the world are in Sydney (Tetsuya's, #17), New York (Masa, #27), and London (Nobu, #34).
As the wine guru Jancis Robinson has indirectly asked, what does it say about the composition and wisdom of the food media elite if this is their jury verdict?
Is this the Parkerization of the food world?
Yes, chemical pyrotechnics and scattered plating make for good food porn in magazines. And yes, it is interesting, at least intellectually, to watch the arcs of cuisine and modern art intersect in molecular gastronomy. Yet the notion that one must be a molecular gastronomist to be truly great restaurant—and that is, increasingly, the consensus view—is poisonous. It devalues both subtlety and directness. It devalues terroirs of all different sorts. It devalues the commitment to any one culinary tradition. It devalues the multi-generational emotional and even theoretical structures that define many great restaurants. And above all, it devalues pure deliciousness.
Are the world's greatest chefs and restaurants—as many of its greatest winemakers and wineries have irreversibly done—being forced to reinvent themselves as pretentious pleasure pumps for the adolescent palates of an army of camera-wielding tourists who write for food blogs and lifestyle magazines?
Court jesters, indeed.