Over the course of a road trip across America, I was lucky enough to spend plenty of interstate time with my friend Andrea Armeni. One of the things we discussed at length was the question of in what circumstances the search for culinary authenticity turns farcical.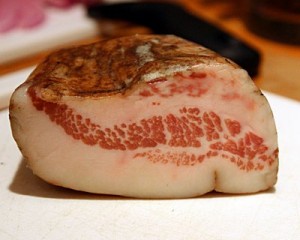 Florence Fabricant, in a recent article, embodies a common attitude amongst American food writers when she reveals the results of an exhaustive search for the true recipe for bucatini all'amatriciana, one of Italy's most beloved pasta dishes: "After half a dozen plates of it during a recent trip to Italy, one detail became clear: for any pasta all'amatriciana to be authentic, it must be made with guanciale—cured, unsmoked pig jowl."
Although it would be a difficult hypothesis to test empirically, Andrea and I had the same immediate reaction to this statement—his from growing up in Italy, mine from living there for a while: in Italy, almost nobody would care in the least bit whether pasta all'amatriciana were "authentic." People would care whether it tasted good.
Now, just because people in Italy wouldn't care whether amatriciana were authentic doesn't mean we shouldn't. The preservation of culinary history, lest old recipes be lost in time, is a noble endeavor. But historical documentation doesn't seem to be the purpose of the food writers who go around enforcing amatriciana's authenticity. It's more the idea that there's one, and only one, way to make this dish—a blend of I've-been-there-and-you-haven't self-righteousness with cultural/culinary naïveté.
To wit: "Italians take guanciale for granted, but it's fairly new to American kitchens. Almost all the recipes in American cookbooks," continues Fabricant, "call for ordinary bacon—which is too smoky—or Italian pancetta, which is too lean…'Good guanciale makes all the difference,' said the actor Michael Tucker, an accomplished cook, who, with his wife, the actress Jill Eikenberry, has a house in Umbria. In his book, 'Living in a Foreign Language' (Atlantic Monthly Press, 2007), he describes buying guanciale from Ugo Mazzoli, the butcher in Campello sul Clitunno, near his house."
Guanciale is lovely in amatriciana; few would dispute that. But Simone, the Genoese guy who taught me to make amatriciana, does it with pancetta—like his mother did. Would Simone love a well-made amatriciana with smoky American bacon, too? Of course he would. He's not a lever-pulling lab rat. He's just a dude who, like many other Italians, likes good food.
Is amatriciana made with guanciale? Yes.
Is it made with pancetta? Yes.
Is it made with Tyrolean speck? With French lardons? Probably, somewhere in Italy, yes.
To illustrate the absurdity of Fabricant's point of view, Andrea offers the following hypothetical: imagine an Italian food critic undertaking a careful investigative journey through the American pastoral hinterland in search of the authentic hamburger. She tries a half-dozen burgers, reads a few cookbooks, and concludes, in her article in Corriere della Sera, that "for a hamburger to be authentically American, it must be made only with Wisconsin cheddar cheese, lettuce, and tomato, and it must be served with french fries."
Fabricant is not wrong, exactly, about how to make a good plate of bucatini. But she, like too many food writers, constructs a counterfactual Italy of culinary dogmatism, a population of finger-wagging guanciale zealots, a nation full of Ugo Mazzolis harrumphing around about how the world is going to shit now that people are making amatriciana with pancetta.
People and recipes aren't anthropological tokens. They're living things, the products of neural assemblies and proteins and chemicals bouncing across the ages. Narrow your gaze and squint your eyes too tightly in the search for authenticity, and you might miss that whole, beautiful landscape.