My new book, The Wine Trials (Fearless Critic Media, 208 pages, paperback, $14.95, distributed by Workman Publishing), has been released. It's now available on amazon.com, at Whole Foods Market stores nationwide, and at bookstores everywhere.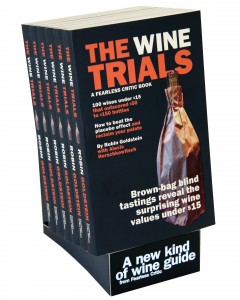 About the book:
Shows that in blind tastings, everyday wine drinkers actually prefer cheaper wines to more expensive wines
Reviews 100 wines under $15 that outscored $50-$150 bottles in brown-bag blind tastings
More than 500 wine experts and everyday wine drinkers tasted more than 6,000 glasses of wine
Results were compiled, analyzed, and reviewed by a team of scientists including statisticians, neuroscientists, and economists; the book discusses the results published in our paper, "Do More Expensive Wines Taste Better?"
Two-thirds of tasters preferred a $12 Domaine Ste. Michelle Brut, a Washington State sparkling wine, to a $150 Dom Pérignon Champagne
Examines scientific evidence that wine actually tastes better when you know it's expensive: "the taste of money"
Includes a guide to conducting your own blind tastings
For more information, check out the
Wine Trials website
, which includes reviews, media coverage, the full text of the first chapter, and a video of our blind tastings.