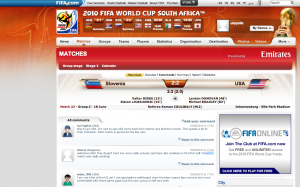 As of this writing, of the 343 comments to have been approved by the moderators on FIFA.com's "Have Your Say" discussion board about today's controversial US-Slovenia 2-2 draw in World Cup competition, not one of them contains even a passing mention of the main topic of discussion of every article that has been written about the game: the fact that referee Koman Coulibaly disallowed the third US goal for reasons that weren't (and still aren't) clear to players, fans, or television announcers.
Other soccer discussion boards, like the Washington Post's Soccer Insider, were flooded with debate and discussion about the questionable call, which began almost immediately after it happened at about 16:40 GMT (the time zone used by FIFA.com). So were Twitter feeds (although at some point Twitter crashed, as it frequently has during the World Cup). The discussion over the controversy really exploded around the internet after the game ended at 16:51, and before long, USA's tie with Slovenia already had more Google News blog hits (850) than Serbia's upset of Germany (701).
But on FIFA.com, the silence about USA-Slovenia has been deafening. The latest comment to appear on the discussion board has a timestamp of 20:04. In the 193-minute span between the game's end and the latest comment's time stamp, only 24 squeaky-clean comments have been approved. For instance: "great fightback by the USA"; "this is the right result on the balance of play"; "way to go USA"; "the match was really exciting!"; "slovenia is the best team"; "USA are becoming a real nice team!"; and "Slovenia had a great chance to qualify in the next round!! But in the second half we were too defensive."
By comparison, in that same span of time—193 minutes—after the end of Germany-Serbia (which ended today at 14:20), there were already 175 comments posted. That's more than seven times as many.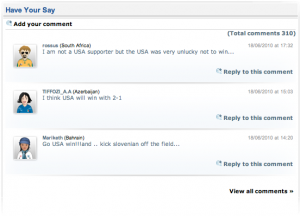 At one point, a user named Rossus, from South Africa, posted one comment that did, in the most polite possible way, at least hint at the idea that there might have been some controversy. Rather than suggesting any human fault, Rossus's comment merely used the word "luck": "I am not a USA supporter but the USA was very unlucky not to win." But even that comment, after briefly appearing on the match overview page (which streams the latest comments), was later censored, and never made it to the discussion board page itself. The comment is no longer on the site, but I took a screen shot of it during the brief time that it appeared on the overview page, which appears here to the left.
Just to test my theory personally, I also tried posting the following comment: "I disagree with referee Koman Coulibaly's decision to nullify the third US goal." Sure enough, as other posts materialized on the board, mine never did. It goes without saying that FIFA.com refused to comment on or post my followup questions about what the standards were for censorship on their site.
It's interesting to see how often, and how deeply, large organizations seem to misunderstand the purpose of discussion boards, blogs, and other internet debate and discussion fora. They seem to imagine that most users and readers won't notice the censorship, or that they will find cleansed discussion boards to be valid platforms for authentic debate and discussion.
I suspect, though, that these organizations tend to underestimate both the curiosity of their readers and the power of the internet as a commons, and that this sort of board cleansing just leads people simply to speak with their fingers by ditching FIFA.com—in spite of its undoubtedly large software budget—and seek their information elsewhere. This goes not just for the would-be commenters that have suffered through the sting of a rejected comment, on which they might have spent a good deal of time; it also goes for the would-be readers, many of whom immediately notice that something seems fishy.
This doesn't just undermine fans' trust in FIFA; it also squanders an easy opportunity for the body that administers the world's favorite sporting event to become a place where fans can share, discuss, and debate the things that they care most deeply about—thus engendering goodwill and helping to spread the good word about soccer.
Instead, the fans are turning elsewhere. A homemade-looking website called bigsoccer.com, for instance, already has 728 posts on its SerbiaSlovenia-USA discussion thread.
Its motto? "Share the passion."